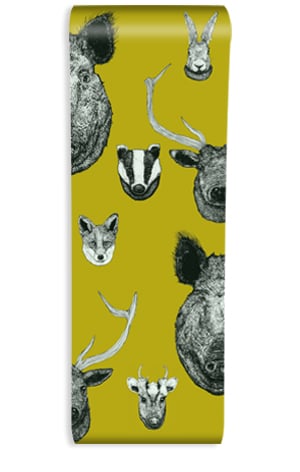 Trophy Head Wallpaper
£

150.00

/ Coming Soon
---
Display your own trophy hunting wallpaper in your own pad but without any of the cruelness. British native animals adorn a rich mustard and sober grey colour for you own lodge or city pad. Intricately drawn are British beasts that would have commonly dressed the walls of our past aristocracy. Well you, too, can have your own modern version.
From ancient deer to a rather dashing wild boar, all are present here on this easy to hang wallpaper. To complete the look we also have the wild boar and badger cushions in co-ordinating colours.
Its difficult to appreciate just how striking this pattern is, have a look here at our 'about page' to see how it might look in your home.
http://lisa-bliss.co.uk/
As with all of our products they are designed, and manufactured in the UK.
Comes with full hanging instructions, but for your reference:
Paste the wall wallpaper (less messy and easier to apply!)
10 metre roll.
Standard 52 cm width
Half drop repeat at 150 cm
Any questions? Please just ask, we'll try our best to help!